Fred Yarm has been an indispensable fixture of the Boston cocktail scene for nearly three decades. Beginning as a home enthusiast, Fred embarked on an epic cocktail journey including roles as a renowned blogger, book author/journalist, public speaker, elite bartender, general manager (Drink), brand representative (Angel's Envy) and chapter director of the U.S. Bartenders Guild. Cocktail fans have enjoyed his inspired creations at establishments such as Drink, Russell House Tavern, the Smoke Shop, Josephine, Loyal Nine, and many others.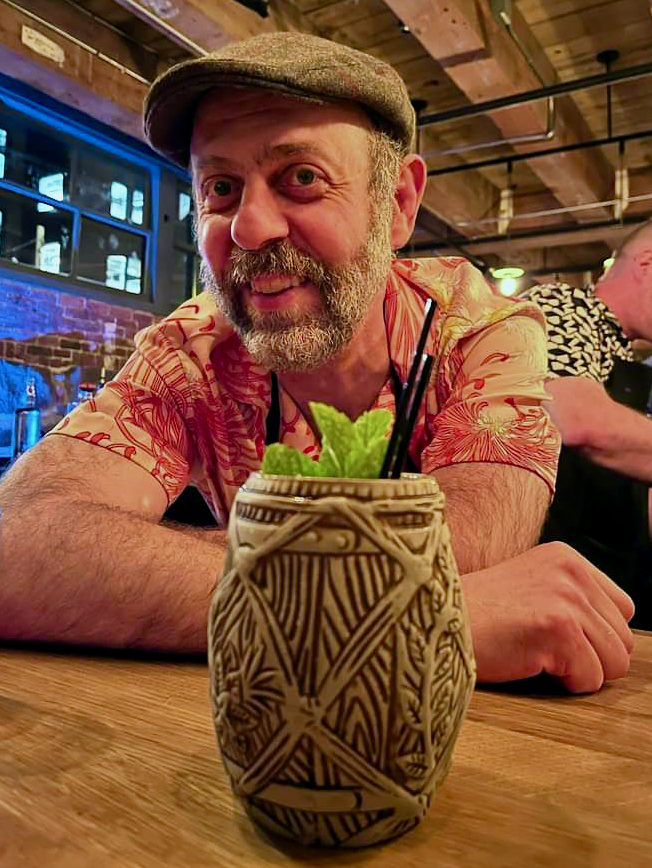 Fred's incisive writing covers both cocktail history and thousands of recipes through his two tomes on Boston's burgeoning cocktail scene (Drink & Tell: A Boston Cocktail Book and Boston Cocktails: Drunk & Told) and his astounding blog where he's been posting a new recipe a day for nearly 16 years. Fred's encyclopedic knowledge may seem intimidating, but he's as friendly and humble a cocktail ambassador as you'll ever find.
Boston Rum Week is honored to have Fred conduct a seminar that takes us into the thought process of a professional bartender, tackling questions such as: What classes of rum work best in various cocktails? What are the guest's preferences? What ingredients are available? Attendees are guaranteed to have an entertaining and educational experience, gain some practical skills and techniques for home bartending, and taste some creations by a true master of the cocktail craft.
We recently sat down for a chat with Fred to talk rum, cocktails, and the one confounding drink ingredient he'd like to make more use of.
Rum is often used in place of whiskey to make "riffs" on classic cocktails; the Rum Old Fashioned is one example. Do you have any guidance about developing new cocktails based on whiskey-to-rum substitution? How do you contend with the wide range of flavor profiles that rum has to offer?
Substitutions depend on what whiskey was used in the original. For something smoother like a Bourbon, an aged rum with a good pot still component, such as a Barbados rum, works well. For a spicier whiskey like rye, a more aggressive aged Jamaican rum like Smith & Cross will deliver. Scotch can be tricky, but sometimes the earthy and smoky Batavia Arrack can fill in. Rum also functions well in a split-base situation, such as including funky Jamaican rum with rye or Scotch, aged Demerara or other less aggressive rums with Bourbon, etc. A lot has to do with what the other components are, such as using an [more understated] rum when combined with an amaro like Braulio or opting for a more aggressive rum when mixed with something smoother like Benedictine or a fruit liqueur.
What are your thoughts on the resurgent New England rum scene? Do you think there is such a thing as "New England-Style Rum"?
At Tales of the Cocktail in 2010, my wife went seeking an answer to this question especially since our house is between the locations of the old rum distillery in Somerville and the famous rum distilleries in Medford, Mass. She spoke to Wayne Curtis, who introduced her to Jeff Berry, who brought her over to Steve Remsberg. Steve asked her if she had ever tasted old New England rum, and then bestowed the honor of inviting us to a rum tasting at his house after Tales was over.
The first rum the whole group tasted before we moved on to old Jamaican specimens and pre-Fidel Cuban rums was a 17-year-old Austin, Nichols & Co. Old New England Rum distilled and aged in Everett, Mass., with a hope that the style would be revived. It was something between a rum and a Bourbon, with light stone fruit notes and a twang at the end over the aged molasses flavors. Mind you, this was a year before Privateer started, although there were a few like Thomas Tew and Ryan & Wood starting the concept moving in 2009 and 2006, respectively.
New England-style rum seems to carry on the tradition of using molasses and pot stills (although some of the pot stills are almost like a column when run in hybrid mode), ex-Bourbon barrels, and eschewing sweeteners and additives. The more moderate climate than the Caribbean also centers the flavors a bit. While there is not a definitive note like the hogu of rhum agricole, much of New England-style rum clusters well on a flavor spectrum.
What is the level of acceptance you've seen of cocktails based on highly funky rums among the Boston-area cocktail-drinking community?
At a Tales of the Cocktail talk, Jim Romdall declared that funk is the seasoning to rum cocktails, and that all rum cocktails taste better with a bit of funk. While not everyone is ready for a full two ounces of Smith & Cross in a drink, there is a large contingent here in Boston that gets excited about those drinks and seeks them out. For the less cocktail-savvy contingent, perhaps leaving out the funk or making it more accessible, like a bar spoon or two of agricole as a supplement, might be a better choice. But for the more experienced, full-on or split spirits drinks utilizing Batavia Arrack, high-ester Jamaican, and rhum agricole have gotten folks excited, especially when I could hold a conversation such as when I bartended at Drink or could put it on a menu with the right descriptors.
How have your personal preferences towards cocktails shifted over the years?
When I started in 2006, there was so much excitement about the classics and modern recipes of the day coming from New York City and elsewhere that were based on them. For example, the 1940s-era Stork Club Cocktail was something that I found cool when it was on the menu at Green Street, but these days few would opt for an orange juice-Pegu Club over a Naked & Famous. As the bar scene locally and on the internet got more savvy, complex recipes were more accessible even if they served a small percentage of the cocktail drinkers. Learning how to balance aggressive things like Fernet Branca or bring out flavor synergies with Swedish punsch became a badge of pride.
Lately, since the majority of my drinking occurs after I get home late at night from a bar shift, I tend to drink more stirred and spirits forward drinks with amaro being a frequent ingredient. I will not say no to a forgotten classic, but since I try to drink something new every night, most of those have been covered. If it is not the new drink of the night, an Old Fashioned or a Daiquiri sure hits the spot.
Are there any trends you would like to see take root in the cocktail world?
There are lots of fortified wines that got overlooked as sherry took the pole position. Madeira has a historical basis in mixed drinks and has four noble varieties ranging in sweetness that work especially well with rum and whiskey. Rancio sec, though not fortified, falls somewhere between Madeira and sherry and has generally been overlooked throughout the ages. Aromatized wines like quinquinas, such as Byrrh and Dubonnet, are still overlooked despite having a historical role in the cocktail lexicon, and frequently I see the classics modified to sweet vermouth that lacks the bitter complexity (but are found in all bars).
There are so many answers to this question, but it makes me seem less curmudgeonly than answering the question of what trends that I would like to see go away.
Do you have a "kryptonite" cocktail ingredient, that you are intrigued by in principle, but find frustratingly difficult to incorporate into cocktails?
Finding a use for crème de violette other than in an Aviation that I would want to repeat would be awesome.
The Fred Yarm Cocktail Class will be held at Gustazo Cuban Kitchen & Bar on Thursday, Sept. 21 during Boston Rum Week. Check the event website for details and reservations.